Special New Cardholder Offer

Let us help you go beyond to reach your financial goals with a credit card that best fits your lifestyle. We offer two Visa® credit card options for you to choose from: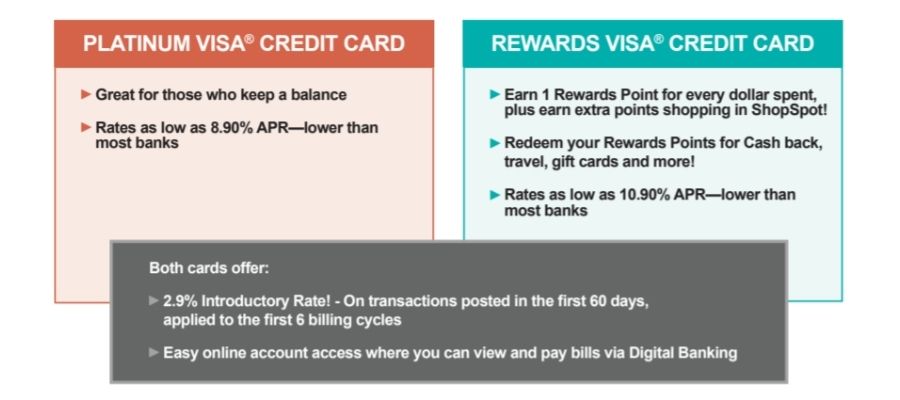 Learn More About Our Credit Cards
Special New Cardholder Offer!
Open a Launch credit card on or between March 1 and April 30, 2021 and earn a $100 Statement Credit after you spend $1,500 in purchases using your new Launch Visa Credit Card within the first two billing cycles.*
Load your credit card into your online accounts like Amazon, Walmart, and Target for easy checkout!
*Subject to credit approval. The rate you pay is based on credit history. Introductory Rate and Balance Transfer Rate: APR = Annual Percentage Rate. The 2.90% introductory APR for purchases and balance transfers will apply to transactions posted during the first 60 days following issuance of your card. The 2.90% introductory APR will be in effect for six billing cycles from the date of your first purchase or balance transfer. After the introductory period your APR will be 10.90% to 17.50% (Visa Platinum Rewards) or 8.90% to 17.50% APR (Visa Platinum) based on your creditworthiness. Cash advances are excluded from the introductory APR. Foreign transaction fee of 1.00% of each multiple transaction in US Dollars and 1.00% of each single currency transaction. If approved, members may have only one Launch Visa Platinum credit card – must choose between non-rewards or rewards credit card. Rewards Card holder earns 1 point for every dollar on purchases made with Launch Visa Platinum Rewards Card. Balance transfers and cash advances do not earn points. Points will be deducted for return purchases. Points are rounded to nearest whole number. Redeemable balance of points will be forfeited if account is delinquent or over limit for 2 billing cycles. Points will be forfeited if account is statused bankrupt, closed or revoked. Unredeemed points expire in 36 months. Refer to your Launch Rewards Terms and Conditions. Federally insured by NCUA. © 2021 Launch Credit Union. All Rights Reserved.