Bill Pay Enhancement
As a Bill Pay user, we are excited to inform you of an enhancement that will be taking place October 1, 2020. This enhancement should not require any action on your end; however, as a safeguard, we suggest documenting any of your payees' information.

Dates to remember:
Sept. 23: Last day to schedule payments prior to enhancement
Sept. 24-30: Bill Pay will be unavailable. Previously scheduled payments will continue to process as usual.
Oct. 1: Enhanced Bill Pay will be available by end of business day
If you utilize these features, please note, they will not be changing over:
Popmoney items
Account to Account Transfers
If you use the eBill feature on any of your payees, you will be required to set them up again after the enhancement. You can see if you have eBills by looking for "eBills ON" in the bottom right of the payee box in the Payment Center.
First Look at the New Enhancement Layout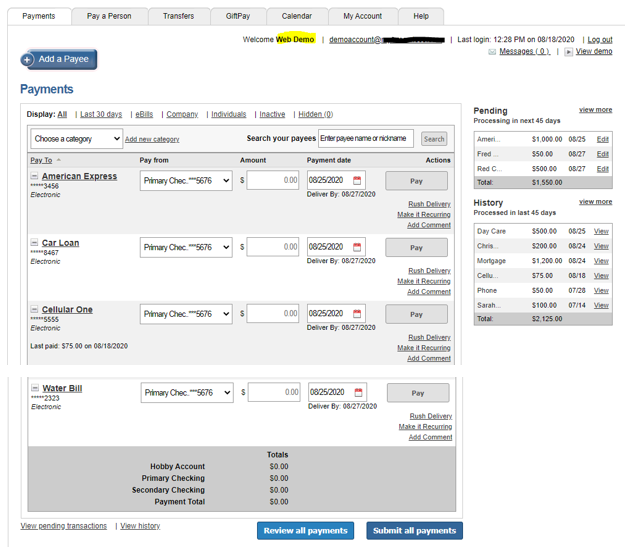 Benefits of Using Bill Pay
As a reminder, benefits of using Bill Pay are:
Save time. With Bill Pay, you can receive and pay your bills online, all in one place. That means no more visiting multiple websites to pay bills or trips to the post office to mail checks. In addition, smart features such as recurring payments allow you to automate regular bill payments.
Save money. Paying bills online saves on postage, envelopes, late fees, and checks. Start saving now!
Stay organized. Your payment history is stored in your online account, so you will not have to sort through paper receipts or visit multiple websites to access past transactions.
Gain peace of mind. Paying bills electronically means no risk of mailed checks getting lost or stolen. Plus, you can stop worrying about missing a bill payment when you set up automated recurring payments.
Help the environment by saving paper. With Bill Pay, there are no checks to write or envelopes to mail. That is good news for you and the environment.
Want to learn more about Bill Bay and other Digital Banking services available? Click the button below.