Economic Impact Payment Information
Updated April 23, 2020
On Friday, March 27, 2020, the U.S. government passed a $2 trillion dollar stimulus plan in response to the Coronavirus/COVID-19 pandemic.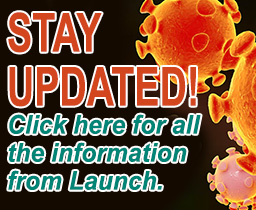 When should I expect my economic impact payment?
This week, the IRS began distribution of the Economic Impact Payments. For those who qualify, the funds will be directly deposited into the same bank account reflected on your last tax return.
If you would like to know the status of your COVID-19 Economic Impact Payment, please CLICK HERE. There you will find a link with information where you can check your payment status, confirm your payment type as direct deposit or check, and enter your bank account information for direct deposit.
The first batch of payments were deposited to members accounts on April 15, 2020. Payments made via check are expected to start going out the week of April 20, 2020. CLICK HERE to view your status.
If the account is closed or no longer active, the bank will reject the deposit and you will be issued a check that will be mailed to the address we have on file for you. This is generally the address on your most recent tax return or as updated through the United States Postal Service (USPS). You do not need to call the IRS to change your Payment method or update your address at this time.
As required by law and for security reasons, a letter about the Payment will be mailed to each recipient's last known address within 15 days after the Payment is made. The letter will provide information on how the Payment was made and how to report any failure to receive the Payment.
If your direct deposit account information that the IRS has on file is the tax preparer, it is possible your Economic Incentive Payment will be directed to the tax preparer's account. In this case, you will have to contact your tax preparer to gain access to those funds.
If you filed your taxes in 2018 or 2019, but did not provide your banking information, CLICK HERE to submit Direct Deposit information so that you receive payment immediately, as opposed to getting a mailed check later this month.
If you did not file a tax return in 2018 or 2019, CLICK HERE. This portal will allow you to submit your information to the IRS so that you can receive payment.
NOTE: The IRS will send you a letter in the mail to the most current address they have on file about 15 days after they send your payment to let you know what to do if you have any issues, including if you haven't received your payment.
How is the amount I receive determined?
According to the bill, the amount you will receive from the COVID-19 stimulus plan is determined by your AGI and your tax filing status. The government will calculate the Economic Impact Payment and automatically send to those who are eligible using either your 2018 or 2019 tax filing to calculate the payment. The funds will be directly deposited into the same bank account reflected on your tax return.
Check out this calculator to determine how much you might receive.
Where can I find my AGI?
To find your Adjusted Gross Income (AGI), look on a copy of your tax return.
2018 Tax Return:
On Form 1040, your AGI will be in line 7
On a Form 1040EZ, your AGI will be on Line 4.
On a Form 1040A, your AGI will be on Line 21.
2019 Tax Return:
On Form 1040, your AGI will be on Line 8b
CLICK HERE for the latest information and FAQ's regarding the Economic Impact Payment.
Economic Impact Payment Scams
COVID-19 scams continue to pop up every day and now scammers are targeting the $2 trillion dollar stimulus relief package. This is an easy target for scammers because the package is new and people have questions.
Launch has you covered on all fronts with the economic impact payment details and how you can avoid these scams. Check out our video below:
Economic Impact Payment Scams
More COVID-19 Resources
Stay updated on the Coronavirus/COVID-19 HERE
Watch our video on Coronavirus/COVID-19 Scams HERE
For Tips and Resources for Financial Hardships during Coronavirus/COVID-19 CLICK HERE