Repair Credit After Bankruptcy. It Is Possible.
According to government data, there were a total of 911,086 bankruptcy filings in 2015. 26,130 of these filings were businesses, while 884,956 were non-business filings. Many people may feel that there is no coming back from a bankruptcy, however there is life after bankruptcy. It is possible to repair credit after bankruptcy. None of these suggestions will fix your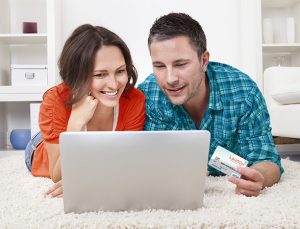 credit score overnight. Repairing credit after filing for bankruptcy takes time. But if you set your mind to it, and put forth the right amount of effort, you can improve your credit.
What Does Bankruptcy Do To My Credit Score?
There's no way around it, filing for bankruptcy will have a negative impact on your credit score. FICO advises that the impact a bankruptcy will have on your score will depend on your entire credit profile. For instance, someone with A+ credit and spotless credit could expect to see a huge drop in their score, while someone with a lower credit score with negative items on their credit profile may only see a modest drop.
Ruth has a FICO credit score of 680. If she files for bankruptcy, according to FICO, her credit score could drop between 530 and 550.
Ryan has a FICO credit score of 780. According to FICO, if he files for bankruptcy, he could expect his score to drop in the range of 540-560.
From the above, you can see that Ryan's score drops more points than Ruth's would, even though his original credit score was 100 points higher than Ruth's. This is because of Ruth's lower initial score, which reflected her riskier past behavior. One additional indicator of increased risk on Ruth's report is not as significant to her score as it would be for Ryan and his spotless credit history.
4 Ways To Repair Credit After Bankruptcy
Know Your Credit Score.
Make sure to figure out your credit score after you file for bankruptcy. It's important to know where you stand so you know what steps you need to take to start improving your credit score. Without knowing where you are, you cannot create a plan of action.
Consider A Savings Secured Loan.
Applying for a savings secured loan from Launch CU could be a great way for you to start building your credit back up. A savings secured loan is essentially a loan that you take out against the money in your savings account. With a savings secured loan at Launch CU you can borrow up to 100 percent of your savings account balance. Applying for a savings secured loan is a great first step towards rebuilding your credit after bankruptcy.
Pay Off Your Balance In Full.
If you have a credit card that you use for everyday living, try to pay the balance off in full every month. This will build your credibility with creditors, indicating that you are a responsible buyer who is serious about improving your score. If you are unable to pay your balance off in full every month, highly consider making weekly or bi-weekly payments. Try to not carry a balance if at all possible.
Monitor Your Credit Report.
Monitoring your credit report from the three major credit reporting agencies, Equifax, Experian, and TransUnion is a must. Checking your credit report allows you to check for any errors, as well as monitor how you are doing. Being proactive, rather than reactive is a major part of improving credit after a bankruptcy. You are able to receive a free copy of your credit report once each year from each of the three major creditors listed above. A good plan of action is to request your credit report every four months from one of the agencies. Head over to AnnualCreditReport.com to get started.
Above all it's important to remain patient and dedicated towards improving your score. A bankruptcy can affect your score for many years, but the more active role you play in repairing your score, the sooner you can bounce back from bankruptcy. The best way to prevent yourself from filing for bankruptcy is to make all of your payments on time, and to not allow your debt to become unmanageable.