Signature Loans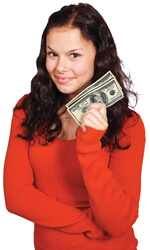 Signature Loans: Get the Money You Need When You Need It Without The Hassle
Do you need money for a vacation, home renovation project, vehicle repair, emergency, or to simply pay off expenses? If you answered yes to any of these questions then a signature loan (personal loan) from Launch CU could benefit you.
Many times it is hard to obtain a loan if you do not have any assets. One of the biggest advantages to a signature loan is that there is no need for collateral. With a signature loan your signature and promise to pay back the loan are used as collateral, which is why it is sometimes referred to as a "good faith" loan. According to Financial Web, signature loans are a great way for you to obtain liquidity without equity. YourGFM advises that signature loans can also help you to consolidate your debt. Signature loans can be used to consolidate high interest rate credit card debt into one fixed monthly payment that usually comes with a more attractive rate. The interest rate on a signature loan is typically slightly higher than a secured loan simply because there is no collateral offered to back the loan up.

Launch CU offers signature loans from as little as $300, and up to $15,000 with a max term of 48 months. For a complete list of rates please click here. Now through September 30, any Launch member who applies for a loan using the Launch CU web loan application, and gets a loan funded will be put into a drawing to win one of three Publix gift cards. For complete details and disclosures on our summer loan promo please visit our promo page.
Applying for a signature loan with Launch CU has never been so easy. Applying for a loan online is fast, easy, and convenient. You can even electronically sign for your signature loan, so there is no need to drive to the branch. You can also give us a call at 321-455-9400 (option 4) to discuss your options. If you are looking for a little extra cash to use at your leisure, look no further than a signature loan with Launch CU. Apply for your signature loan today!
APR means Annual Percentage Rate. The rate that you pay on your signature loan will be based on your credit history and approximate term. If your risk profile puts you in a higher risk category your rate may be higher. Rates shown are subject to change without notice. Term affected by amount financed. Certain terms may not be available for all risk categories.
*Loans require credit approval. Term of loan limited to a maximum of 12 months; maximum loan amount is $5,000. (Payment example: payments on a loan with a term of 12 months at 7.99% APR would be approximately $87.02 per $1,000 borrowed). The rate you pay is based on your credit history and term. One time $5 membership fee and $25 minimum deposit required to open an account for new members.
© Copyright 2015 Launch Credit Union. All Rights Reserved