How To Avoid Coronavirus Scams
Scammers are cashing in on the Coronavirus hysteria. The FTC reports there are now over 13,000 COVID-19 scam complaints with $9.59M in fraud loss.
Scammers are cashing in on the Coronavirus hysteria. The FTC reports there are now over 247,851 COVID-19 scam complaints with $182.43M in fraud loss.From computers to cell phones, websites, and more, scammers are using all sorts of tricks to try and fool people! Scammers want to steal your money so they go for your personal and banking information. They entice people by offering cures, information, testing kits, masks, and more. Keep reading to see how you can avoid coronavirus scams.
How They Do It…
1.) Through Emails
Scammers inundate people's inboxes with fake "awareness," "prevention," and "testing" information. Their end goal is for you to click on a link within the email or an attachment. By doing this you download malicious software onto your device. A Trojan downloader is installed which steals your personal information and data. These are called "phishing scams" These emails look like they're coming from the CDC and WHO. Always check the email address of the sender because they usually include things like a misspelling of the company name.
2.) Through Text Messages
Scammers send text messages offering "treatments," "quick money," and "early access" to economic impact payments. These text messages may also look like they're coming from a concerned neighbor telling you the government announced a mandatory lockdown and you should buy these supplies immediately. Additional text message scams include employment offers from Amazon and how to make $1,000 from your couch.
3.) Phone Calls
Scammers are targeting the elderly with phone calls offering free COVID-19 testing kits. To receive the kit, you must give your Medicaid number. Listen to this example from scammers offering fake tests for medicare recipients. Another robocall scam offers cleaning services such as HVAC duct cleaning to protect your home from the virus. Listen to this example from scammers offering sanitation products. Additional ones include calls from deep cleaning agencies offering germ and virus testing.
4.) Door Knocking
Scammers are canvasing neighborhoods dressed in white lab coats posing as CDC & WHO workers. They're knocking on doors offering COVID-19 at home testing kits. The FDA says currently they have't authorized any test kits that can be taken at home.
5.) Through Websites
Scammers are constantly creating malicious websites offering cures, protective gear, and virus trackers. Florida's Attorney General warns about a site mimicking a legitimate virus tracker. Ashley Moody says these websites are spread through malicious email attachments and online advertisements.
How To Avoid These Scams…
1.) Never download or open attachments from email addresses you don't recognize.
2.) Install antivirus software on your computer and make sure your phone's software is up to date.
3.) Be on the lookout for fake CDC & WHO emails. You can spot a fake email by checking the email address. If it's one letter off it could be from a scammer.
4.) Don't believe vacation offers you receive through email, text messages, social media, or websites. Here are a list of companies the FTC warned for making claims.
5.) Do your research when donating to charities. The FTC has some great guidelines.
6.) Watch for fake investment opportunities.
7.) Use multi-factor authentication for accounts. Many devices or sites have a specific way to do this so google your device and multi-factor authentication.
8.) Only visit trusted websites for COVID-19 updates including the CDC, WHO, and Florida Health.
9.) Hang up on robocalls.
10.) Report scams: FTC.gov/complaint
Scammers are targeting the $2 trillion dollar stimulus relief package . This is an easy target for scammers because the package is new and people have questions. Launch has you covered on all fronts with the economic impact payment details and how you can avoid these scams.
Examples: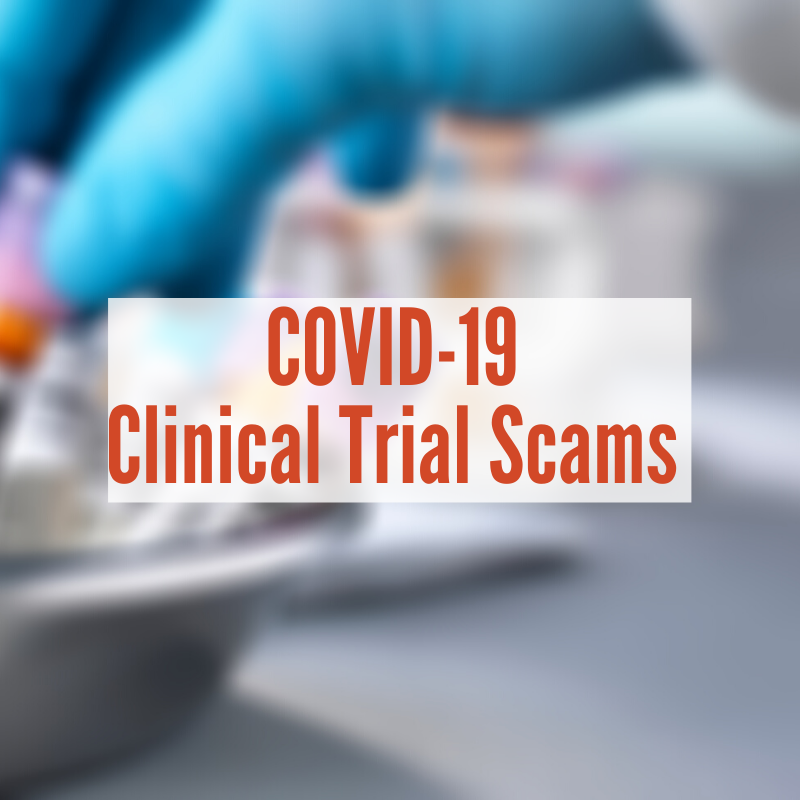 COVID-19 Clinical Trails
There are many COVID-19 clinical trials happening right now and not all of them are legitimate. The fake ones will steal your money and information. The FTC says to keep these things in mind when looking at COVID-19 clinical trials:
Don't pay to participate or find out about a clinical trial.
Search for the clinical trial's name + "scam" "review" and "complaint."
Remember, legitimate trials do need some personal information, but should never ask for your social security number.
Don't share your financial institution information like account and routing number.
COVID-19 Testing
Scammers are offering FREE COVD-19 tests to medicare beneficiaries in exchange for personal information including Medicare information. These tests are NOT legitimate. Some medical labs are just drawing blood and billing insurance for unnecessary testing. Scammers are also offering $200 Medicare prescription cards which don't currently exist. 
Tips:
Don't respond to free COVID-19 testing advertisements.
Don't click on hyperlinks from unknown email senders or phone numbers.
A trusted medical professional should approve any COVID-19 testing.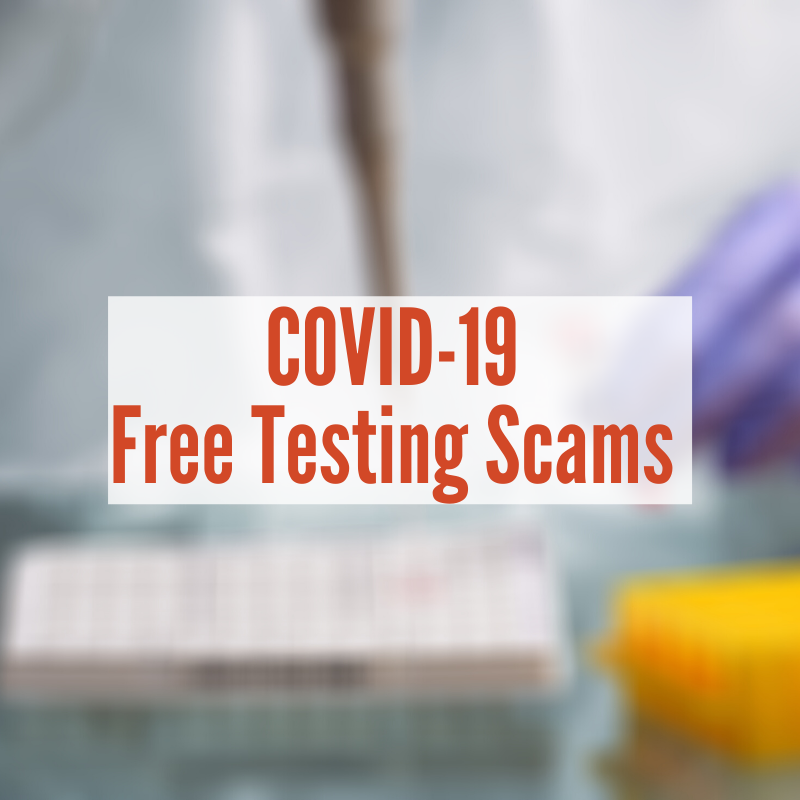 Fake Clorox & Lysol Websites 
In this latest scam, scammers are creating websites that claim to be affiliated with products like Lysol and Clorox. Consumers order from these sites, but never receive the cleaning products. The FTC says they are in no way affiliated with these companies. Make sure to only purchase from well known sites and ones you have purchased from before.
Tips:
Pay with a credit card. This way if the change is fraudulent you can fill out a dispute form. 
Calculate sales total so you know how much you're supposed to be charged.
Find answers to questions like: Can I get a refund? How do I return an item? Can I exchange it?
If a site is claiming to sell a product that is sold out everywhere else, it may be too good to be true. 
Economic Impact Payment Information
1.) Do I have to do anything to receive payments? The simple answer is no. The payments will be distributed automatically within three weeks. However, people who don't typically file returns will need to submit a simple tax return to receive payment. The funds will be directly deposited into the scam bank account reflected on your tax return. 
2.) Am I Eligible? 
You're eligible for the full amount if…
Individual adjusted gross income up to $75,000
Married couple joint adjusted gross income is up to $150,000
3.) You're eligible for some amount…
If you make above the individual $75,000/$150,000 thresholds. 
The IRS will reduce amount by $5 for each $100 above the thresholds. 
4.) You're not eligible if…
Individual income exceeds $99,000 with no children.
Joint income exceeds $198,000 with no children. 
5.) How much might I get?
Up to $1,200 for individuals.
U to $2,400 for married couples.
Additional $500 for each qualifying child.